富星貿易行有限公司前身之"富星貿易行", 成立於1973年. 主要業務包括代理及批發各類專業工具及儀器.
超過30年, 我們的經營理念是: 致力提供最有价值的工具器材
富星現已成為業內廣泛認同的信心保證.
The former company "FUSTAR Trading Co." of "FUSTAR Trading Co. Ltd." was established in 1973 with main business that include import and wholesale of all kinds of professional tools and devices.
For over 30 years our motto is "To provide customers the highest quality tools with the best value for money." At FUSTAR, quality is a guarantee.




奧地利"SOLA-奧寶"平水測量工具.SPIRIT LEVELS
"SOLA"是歐洲最大測量工具製造商之一.
所有平水尺皆採用堅固鋁合金外殼,原廠30年保用不碎泡管及夜光水銀,適合全天候工作環境!


( 通用型 ) 2 珠. STANDARD SPIRIT LEVELS WITH 2 VIALS
Product Informations:
| | | |
| --- | --- | --- |
| 型號. ITEM NUMBER | 尺寸範圍. RANGE | 厚度. THICKNESS |
| AV2-30 | 12"/30.48 cm | 21 cm |
| AV2-45 | 18"/45.72 cm | 21 cm |
| AV2-60 | 24"/60.96 cm | 21 cm |
Technical Informations:
誤差.Accuracy: +/- 0.5mm / m (正常位置.Normal position)
誤差.Accuracy: +/- 1mm / m (倒轉位置.Opposite position)
鋁邊重量.Profile weight:520g/m



(通用型) 3珠.STANDARD SPIRIT LEVELS WITH 3 VIALS
Product Informations:
| | | |
| --- | --- | --- |
| 型號. ITEM NUMBER | 尺寸範圍. RANGE | 厚度. THICKNESS |
| AV3-60 | 24"/60.96 cm | 21 cm |
| AV3-90 | 36"/91.44 cm | 21 cm |
| AV3-120 | 48"/121.92 cm | 21 cm |
| AV3-150 | 60"/152.40 cm | 21 cm |
| AV3-180 | 72"/182.88 cm | 21 cm |
Technical Informations:
誤差.Accuracy: +/- 0.5mm / m (正常位置.Normal position)
誤差.Accuracy: +/- 1mm / m (倒轉位置.Opposite position)
鋁邊重量.Profile weight:520g/m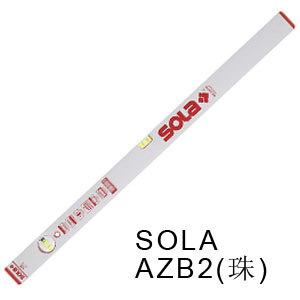 (專業型) 2珠.HEAVY DUTY SPIRIT LEVELS WITH 2 VIALS
Product Informations:
| | | |
| --- | --- | --- |
| 型號. ITEM NUMBER | 尺寸範圍. RANGE | 厚度. THICKNESS |
| AZB2-100 | | |
| AZB2-120 | | |

Technical Informations:

誤差.Accuracy: +/- 0.75mm / m (倒轉位置.Opposite position)

鋁邊重量.Profile weight:650g/m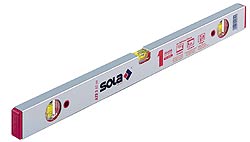 (專業型) 3珠.HEAVY DUTY SPIRIT LEVELS WITH 3 VIALS
Product Informations:
| | | |
| --- | --- | --- |
| 型號. ITEM NUMBER | 尺寸範圍. RANGE | 厚度. THICKNESS |
| AZB3-80 | 32"/81.28 cm | 23 cm |
| AZB3-100 | 40"/101.60 cm | 23 cm |
| AZB3-120 | 48"/121.92 cm | 23 cm |
| AZB3-150 | 60"/152.40 cm | 23 cm |
| AZB3-180 | 72"/182.88 cm | 23 cm |
| AZB3-200 | 80"/203.20 cm | 23 cm |
Technical Informations:
誤差.Accuracy: +/- 0.75mm / m (倒轉位置.Opposite position)
鋁邊重量.Profile weight:650g/m

電子傾斜計.ELECTRONIC INCLINOMETER
Product Informations:
型號. ITEM NUMBER

尺寸範圍. RANGE

厚度. THICKNESS

ENW-60

24"/60.96 cm

26 cm

ENW-80

32"/81.28 cm

26 cm

ENW-120

48"/121.92 cm

26 cm

*ENWM-60

24"/60.96 cm

26 cm

*Remark:ENWM = 帶有磁性 (with magnetic)
Technical Informations:
誤差.Accuracy: +/- 0.3mm / m (正常位置.Normal position)
鋁邊重量.Profile weight:890g/m


》Aluminium box profile,red,epoxy coated
》Profile weight approx.630g/m
》Dimensions approx.51x25mm
》1 horizontal vial
》1 plumb vial (BIGX)
》2plumb vials(BIGX3)


---

Max.measuring tolerance:
》in standard position:0.5mm/m(0.029°)
》for inverted measuring:0.75mm/m(0.043°)


---

Target group:
Masons,buikding professionals,floor layers,plumbers


---

Product advantages:
》Heat-resistant vial construction
》Ergonomically shaped profile
》Horizontal vial with magnifying lens and luminous backing
》Continuous rings
》Light and static resistant vials
》Shock-absorbing end caps

| | | |
| --- | --- | --- |
| Modle | lenth in cm | item No. |
| BIGX | 40 | 01370501 |
| BIGX | 50 | 01370701 |
| BIGX | 60 | 01370801 |
| BIGX | 80 | 01371101 |
| BIGX3 | 100 | 01373301 |
| BIGX3 | 120 | 01373401 |
| BIGX3 | 150 | 01373501 |
| BIGX3 | 180 | 01373601 |
| BIGX3 | 200 | 01373701 |
| Packaging type: | loose | |
| Packaging unit: | 1 piece | |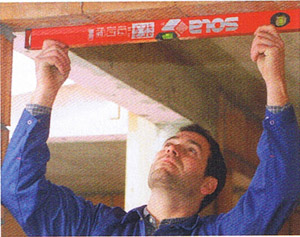 》Mangnetic spirit level
》Aluinium box profile,gold anodised
》profile weight approx. 750g/m
》Dimensions approx.50x24mm
》Pole shoe magnets
》1 horizontal vial
》1 plumb vial (AZM)
》2plumb vials (AZM3)


---

Max.measuring tolerance:
》in standard position:0.5mm/m(0.029)
》for inverted measuring:0.75mm/m(0.043)


---

Target group:
》Plumbers,iron and metal workers,locsmiths


---

Product advantages:
》Unbreakable acrylic block vials
》Horizontal vial with magnifying lens and luminous backing
》lntegrated chamfer for secure grip
》Strong pole shoe magnets
》Second plumb vial for easy vertical measurement(AZM 3)
》Shock-absorbing end caps

| | | | |
| --- | --- | --- | --- |
| Modle | lenth in cm | Magnets | item No. |
| AZM | 30 | 1 | 01180301 |
| AZM | 40 | 2 | 01180501 |
| AZM | 50 | 2 | 01180701 |
| AZM | 60 | 2 | 01180801 |
| AZM | 80 | 3 | 01181101 |
| AZM | 100 | 3 | 01181301 |
| AZM | 120 | 4 | 01181401 |
| AZM | 150 | 4 | 01181501 |
| AZM | 180 | 4 | 01181601 |
| AZM | 200 | 4 | 01181701 |
| | | | |
| AZM 3 | 80 | 3 | 01185101 |
| AZM 3 | 100 | 3 | 01185301 |
| AZM 3 | 120 | 4 | 01185401 |
| AZM 3 | 150 | 4 | 01185501 |
| AZM 3 | 180 | 4 | 01185601 |
| AZM 3 | 200 | 4 | 01185701 |
| Packaging type: | Loose | | |
| Packaging unit: | 1 piece | | |
熱銷產品:

1)德國"STEINEL"無線充電式熱熔膠槍,型號:NEO1/NEO2世界頂級黏合技術.3.6V充電鋰電池,高配置USB充電器.預熱時間只須15秒,可連續使用30分鐘.造型小巧精致,方便操作及攜帶,現火熱銷售中...【詳細】.

2)奧地利"SOLA"奧寶平水測量工具,世界獨有專利,歐洲原廠制造.重裝紅至尊系列,型號:RED3/BIG RED3超硬鋁合金外殼.不碎炮管及夜光水銀配置,可放大水泡(+60)功能.滿足全天候工作需求,正常位置誤差:+/-0.3mm/m,倒转位置误差:+/-0.5mm/m.另備有多款不同規格選擇...【詳細】